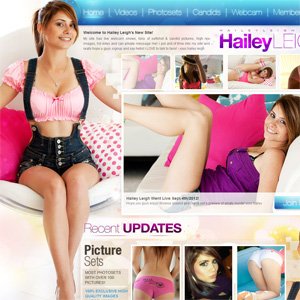 I don't usually get too excited about amateur sites, they tend to be all about your personal preferences and taste, and how you relate to the girl. However, sometimes an amateur girl comes along, and I have to mention her. In the case of Hailey Leigh, it's second time around makes it better.
Hailey Leigh had a site before (still up, but she is not participating, from I gather) called her Hideaway. She was pretty much a non-nude teaser with a bit of a nipple flash from time to time, very normal cute amateur girl stuff. Hailey Leigh is very sexy, a natural redhead with freckles curves, and a generous happy smile. She caught my eye before, and now she catched my eye even more.
Why? Simply put, Hailey dropped the teasing stuff and is now full nude and proud of it. She's just turned 20 and well, the clothes are coming off. Wow. This girl has been hiding an almost perfect body, nice sized tits with bigger nipples (and piercings too!) and a sweet shaved pussy. Best I think is her ass and thigh combination, one look at her from behind and you will know what I mean. This is a girl you want to get in doggy style!
Her new site is all HD, all sexy, and she does some live sexcam shows too. All good!
Check out Hailey Leigh here and enjoy this sweet piece of tail!