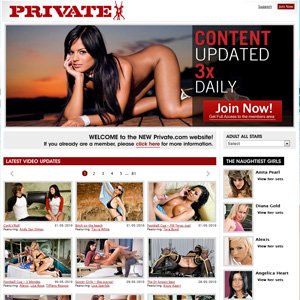 Private is one of the largest porn producers in the world, certainly one of Europe's top brands (if not the top). Private specializes in higher end porn, that is to say stuff with good image quality, hot girls, great locations, and incredible sex.
Private has got one of the hottest collections of sexy girls in hot photosets. They also have the hardest of the hardcore scenes, including group sex, outdoor fucking, double penetrations, bukakke finishes, and much more. All with the hottest name porn girls, European models, and all filmed in amazing locations. Quite simply, they are all about quality and high and horny fun, certainly one of the best around. With their newly redesigned site (which is why I am reviewing them) they have stepped their game up further, letting you quickly access your favorite models, scenes, gendres, and participant count. Their videos (many in HD and growing) are super high quality, fast to load and enjoyable to watch. I have tested out the site on my HTPC to the big screen, and the content is hot!
Check out Private Porn here and get the very best in European hardcore!