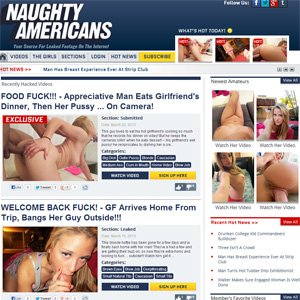 Some sites open and I am fast to add them here, because I don't want you guys to miss out on stuff. Other sites I tend to hold back, because I want to make sure that they play out well and are worth it. That's what I did with Naughty Americans.
Now, let's be clear – Naughty Americans is from the Naughty America crew, and they know hardcore porn and they know how to run the sites. So I know that technically it's all there. The question is content, the pussy, the action – and they answered that in spades. They have been adding more and hot home made porn videos, self shots, and all sorts of stuff like that, and it's just awesome. Great quality too… it's not a shit shaky cam site, this is the real deal, and really hot!
A great mix of girls here too, from stunning hotties to more plain girls that still fuck like champs, and the action is non-stop and real, and the results messy and fun. All sorts of stuff here, from cum facials to the occasional ass fuck and more than a few bloopers too, it's a fun amateur sex romp you won't want to miss.