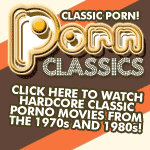 I won't say that this is a trend, but recently there have been a number of sites appear that have some of the good old fashioned porn from the past. Porn Classics is a great new site (or is it a great old site?) that has a pretty extensive back catalog of some of the best porn from the 70s and 80s.
What was porn like back then? More hair. Not just 80's hair band hair, but pussy hair, cock hair, and just general hair. Almost no fake boobs, plenty of good hardcore action, and you never know if the cumshot will be internal, external, or maybe not even get shown. Most of this stuff was recorded on film, so the quality is high. If you look close enough, you might even find Ron Jeremy thin and fucking like crazy.
Check out Classic Porn here at Porn Classics!
UPDATE: Please note this site was closed, so the links go to the porn wiki instead.